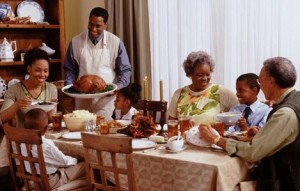 By Tiffany Williams-Jallow, Relationship360° Founder
My first show about how to deal with holiday stress went very well, if I do say so myself (Okay, myself says so – tee hee!). Not only is my guest, Licensed Clinical Social Worker Deborah Rinehart a professional when it comes to helping people build healthy relationships but she was a real pro at answering virtually any question I threw at her during our interview. I found it very interesting that I picked stress as my first show topic, as I experienced a ton of stress and anxiety with the preparation of my first show. However, Deborah helped calm my nerves by offering some really great advice on how to simplify one's life this holiday season, a few suggestions of which I feel are worthy of noting.
First, I liked what she had to say about taking two minutes in a dark or dimly lit room breathing deeply in and out. This technique helps relax the body releasing pent up tension that often arises during the holidays and if left unchecked can lead to mental and physical illness. Likewise, the next time I'm bugging over the preparation of the Thanksgiving turkey, I will be sure to retreat to my quiet place in the house for a few minutes of meditation and relaxation. Life is too short to be stressed out.
Second, Deborah had the right idea when she recommended having a potluck dinner or a buffet to which everyone contributes instead of grandma or mama slaving in the kitchen for two days to prepare a huge feast that's gone within two seconds of hitting the dining table. This leaves time for more important activities like resting and enjoying the family on the days we have off from work.
Finally, she was right on target when she stressed that people should communicate and spend quality time throughout the year rather than waiting for the holiday season starts in November to repair relationships that have been strained or broken since January. Again, I believe she provided some really great advice to me and the audience overall, but there was one recommendation that caused my eyebrows to raise.
Deborah suggested that in the spirit of starting a new tradition, spending the holidays alone instead of with family and friends. I like the notion of getting in tune with one's self, but I believe it is important to focus on helping others rather it be through gift giving, serving or breaking bread with others. However, I do agree with her that we should also engage in these relationship building behaviors throughout the year and not just when November rolls around. God commands us in the Bible to love our neighbors as ourselves and that should happen 24/7 365.
All of us, men and women, are implored to practice The Golden Rule pre and post the holiday season. Nonetheless, it is often the women of the family that get stuck with the tasks of preparing the holiday meal and cleaning up the aftermath. Out of love for the women in their lives, the mothers that brought them into the world, the wives that birth and raise their children, men should step up to the plate, roll their sleeves up and pitch in with the holiday chores. One practical example Deborah provided was to have the men of the family draw tasks such as washing dishes and taking out the garbage out of a hat and complete them while their female relatives kick up their heels and relax. Not only does this reduce stress for the women in their lives, but it also helps to strengthen the ties between the men and the women that have served them all year. I really hope the hat trick will work for my family's next Thanksgiving dinner. I'll let you know in my next blog post and on the show.
Again, I must say I was very pleased with my first show. Just in case you missed it, Relationship360 again airs every Tuesday from 6:00 to 6:30 p.m. and Saturday from 9:00 to 9:30 a.m. on Time Warner cable channel 17 in the Kansas City metropolitan area. If you don't live here, I plan to include clips of the show on this blog and elsewhere on the Internet. So, please stay tuned!
XOXOXO
Tiffany
Click here to join our email list to receive blog posts like this one, special offers and other updates!.