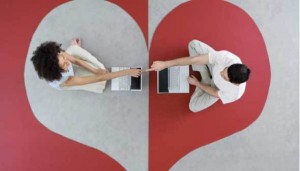 By Tiffany Williams-Jallow, Relationship360° Founder
February is the month of love so I thought it would be appropriate to talk about the phenomenon of online dating on February's episode of Relationships360 on BlogTalkRadio. An estimated 50 million singles – that's half of America's single population, which includes seniors and teenagers are using the Internet to meet people with the goal of finding friendship, a casual dating relationship, or the kind of love that results in marriage. Social and professional networking sites like Facebook, LinkedIn and MySpace have accelerated the growth of online dating by providing singles with more information about a potential match such as a person's professional affiliations, friends and intimate details about their personal life than supplied on most traditional dating sites. This kind of in-depth information can serve as an informal background check, as one only need to ask the friends contained in the network (if mutual) about the person who posted the profile. Additionally, Facebook and LinkedIn have very strict rules with a low tolerance for fraud so the profiles on these sites usually contain a person's real name. As well, further information about the person's history can be discovered by Googling the name provided in the profile.

Nonetheless, social and professional network sites are not a full proof way of uncovering and protecting singles from would be scam artists, liars and cheaters. Traditional dating sites such as the one my show guest Leon Gomez founded, MyCircles.com, provide security features that help keep singles safe during their search for companionship and love including criminal background checks, sexual predator searches and credit checks. The cost is nominal and only a small fraction of the regular membership fee for MyCircles.com's paid dating sites. For non paid online dating sites, the cost is less than five bucks! That's a latte or order from a fast food restaurant's value menu for most people, but priceless when it comes to ensuring one's personal safety while dating in Cyberspace.
Trust me, paying the extra few bucks is worth it, as I almost fell prey to an online dating scam on LoveVida.com. The man of my dreams posted a fake profile picture and his profile was completely made up! Supposedly a wealthy business man, after gaining my trust following a month or so of trading emails, instant messaging and phone calls, he emailed me an SOS asking me to wire him several hundred dollars to assist him in getting a flight home after supposedly being mugged for his money and credit cards while on a business trip in London. The guy was from Nigeria and folks, this is a storybook tactic men from that country use to milk vulnerable women looking for love for as much as their willing to give them! Check out the links in the Relationship Vault section of this blog for more information about Nigerian Dating Scams and other types of bad behavior you should be aware of to protect yourself while dating online. Also, please before you decide to venture into the world of Internet dating or even if you're already doing it, follow these few simple tips from my show guest and online dating expert, Leon Gomez:
1.) Pay a little extra for background checks!
2.) Get a potential date on the phone before you meet him or her in person. If they sound shady, run!
3.) Use paid dating sites like Match.com and Chemistry.com as much as possible. People in bad economic straits, can't usually afford these. If you want to increase your chances of finding someone who can pay their own bills, stick with fee based dating sites. You know what they say, you get what you pay for! To get a free trial to these dating sites, visit the Match.com banner on this blog's homepage or the Chemistry.com ad on the Special Offers page.

4.) If a person's English is bad after they claimed living in America for a while, they could be an overseas scam artist.
5.) Post a recent profile photo of yourself that is tasteful. Posting a photo of yourself from 10 years ago when you were half the size you are now won't help when you meet a person and they discover how big you've gotten. In other words, honesty is the best policy. Also, don't post a dozen provocative photos expecting a marriage proposal!
Again, don't make the mistakes so many unsuccessful online daters have made and you'll have a better shot at finding the relationship you're looking for with the help of the World Wide Web.
XOXOXO
Tiffany

Click here to join our email list to receive blog posts like this one, special offers and other updates!.